The Royal Queensland Art Society would like to congratulate the winners of the 132nd Members Annual,
judged by María Saurí, Julie Fay Brims and Julie Manning .
Exhibition continues in Petrie Terrace Gallery until Sunday 3rd July.
---
Overall Winner – Best Artwork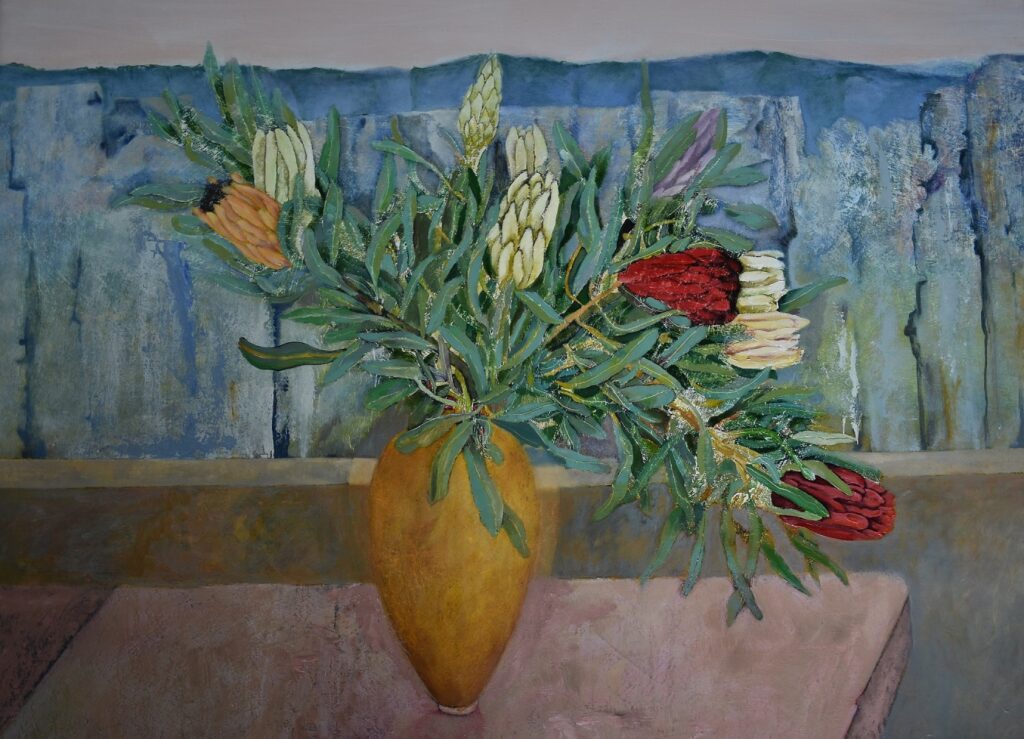 Vista #11
by Laura Phillips
Oil on Board
Judges Comments:
This painting has an intentional two-dimensional feel in its composition and presentation which is quite beautiful in its effect. The palette used is subtle and evocative. Although the work is a rendition of a traditional subject, i.e., a still life, there is no hint here of antiquity. The artist in this case has made it their own, creating a work which seems timeless.
---
SECTION 1: Painting – Oils & Acrylics
First Prize
Tim Page. War Photographer
by Joanne Brooker
Acrylic on Panel
Judges Comments:
This work is bold and alive, painted in eye-catching colour. It is well-rounded as a painting: the elements of a war photographers' life surrounding the subject give his character authenticity. The figure of Tim Page is commanding from the centre of the composition and painted with genuine expression. It is technically accomplished.
Second Prize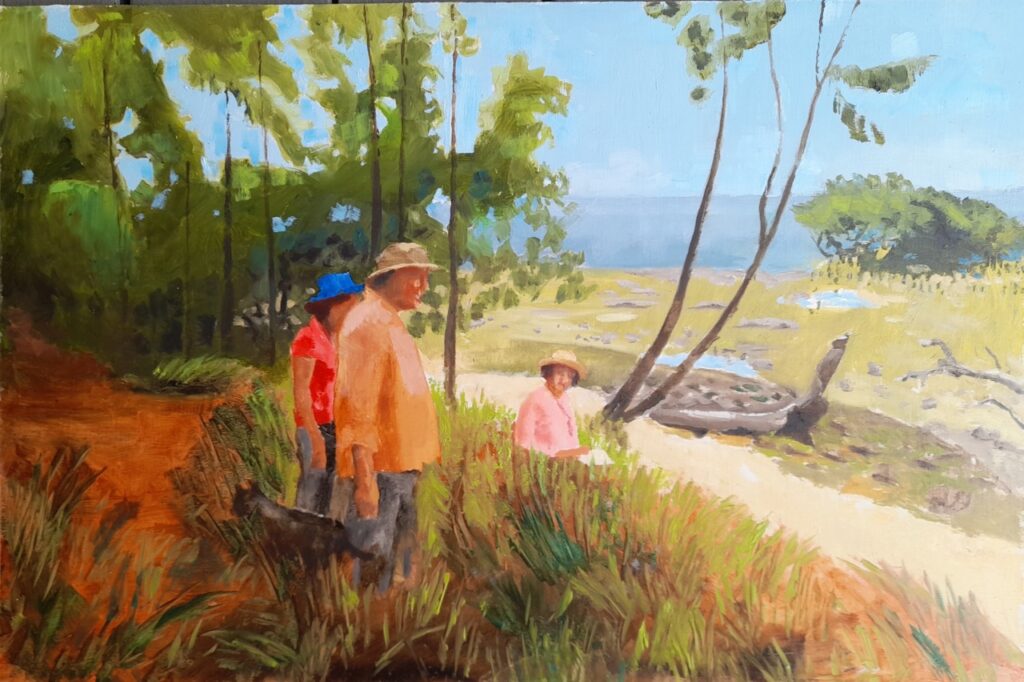 Encounter at Coochie
by Peter Hubbard
Oil on Board
Judges Comments:
This painting emanates light and warmth. It is very successful in telling its story around an encounter at Coochie. The composition is appealing and very natural. The artist has been skilled in depicting the figures and their interaction within the landscape. Overall, this is an enticing and atmospheric work.
Highly Commended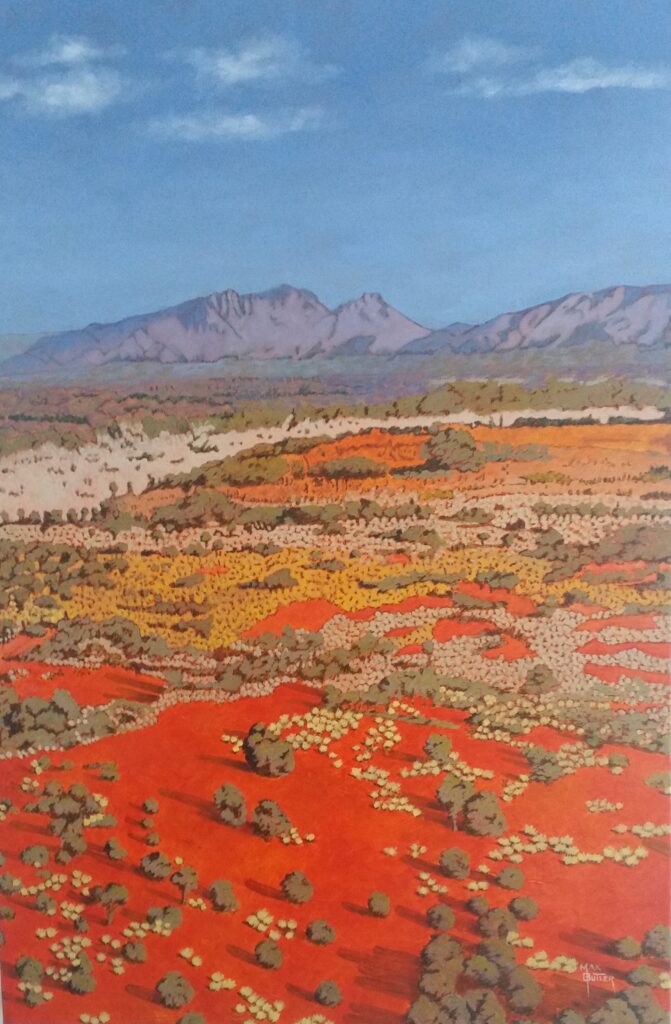 My Country 465
by Max Butler
Oil
Judges Comments:
This work shows very skilled use of a bold colour palette, set out in a clever composition. The bands of foreground, middle and background reveal their details slowly on continued examination of the painting – it invites looking and re-looking to discover the elements in each part of its striking landscape.
---
SECTION 2: Painting – Watercolour
First Prize
Carnarvons Forever
by Tony Walker
Watercolour
Judges Comments:
This work shows excellent use of a limited palette and expressive line work. The use of watercolour as a medium has been harnessed to its full extent in skilfully depicting the landscape. Overall, this is an evocative work which is infused with light.
Second Prize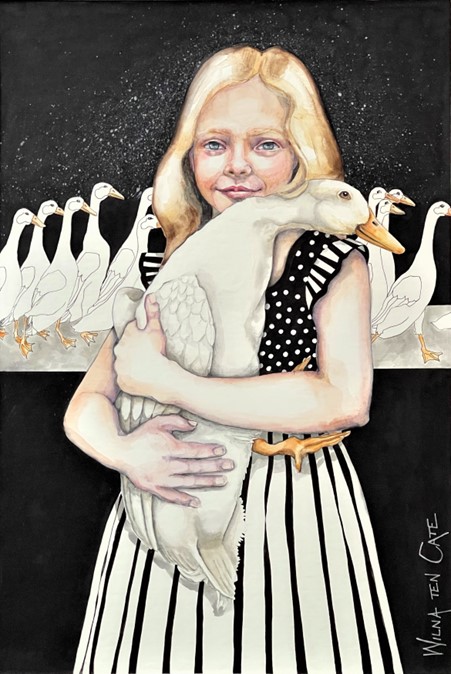 Duck and Lilly under the Milky Way
by Wilna TenCate
Watercolour
Judges Comments:
This painting shows good balance between the watercolour use on the figure and the duck and an illustrative approach to the background. The figure, face and animal are sensitively and expressively depicted, with good technical skill. The overall composition is very well balanced.
---
SECTION 3: Photography, Digital Painting & Digital Manipulation
First Prize
Bend It
by Di Cox
Digital
Judges Comments:
There is a very effective two-dimensional presence to this work. The composition is balanced, and the inclusion of chairs on the open space in the foreground gives the work a light-hearted summery feel.
Second Prize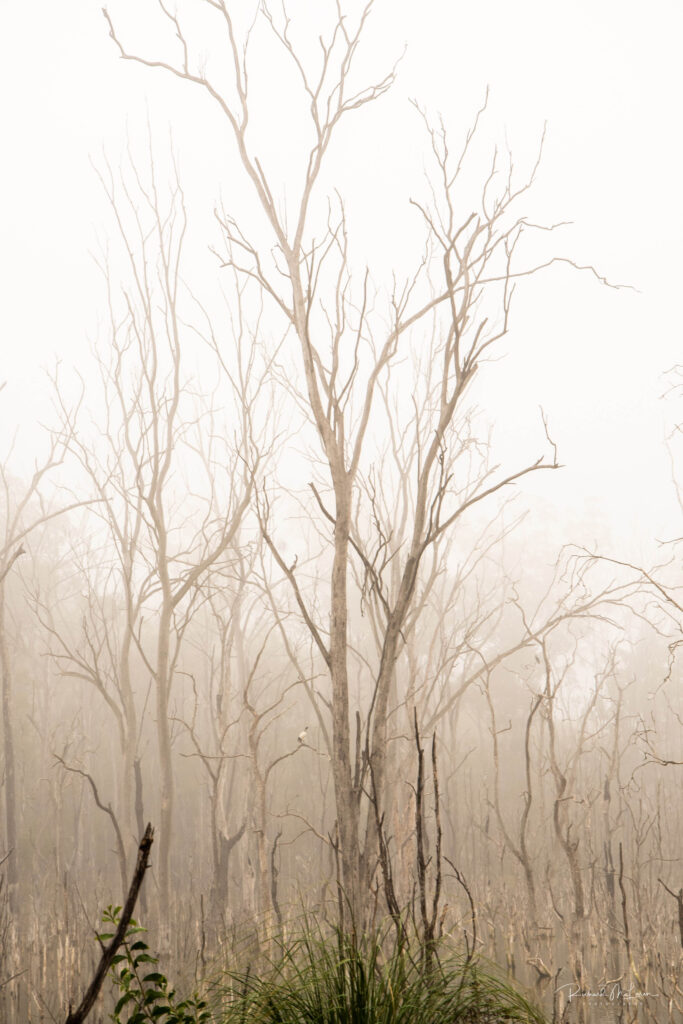 Colour in the Fog
by Richard McLaren
Photography
Judges Comments:
The photographer here has captured a mystical and ethereal quality to the subject matter of a landscape in fog, which translates well as a larger presentation.
---
SECTION 4: Sculpture – 3D works all media
First Prize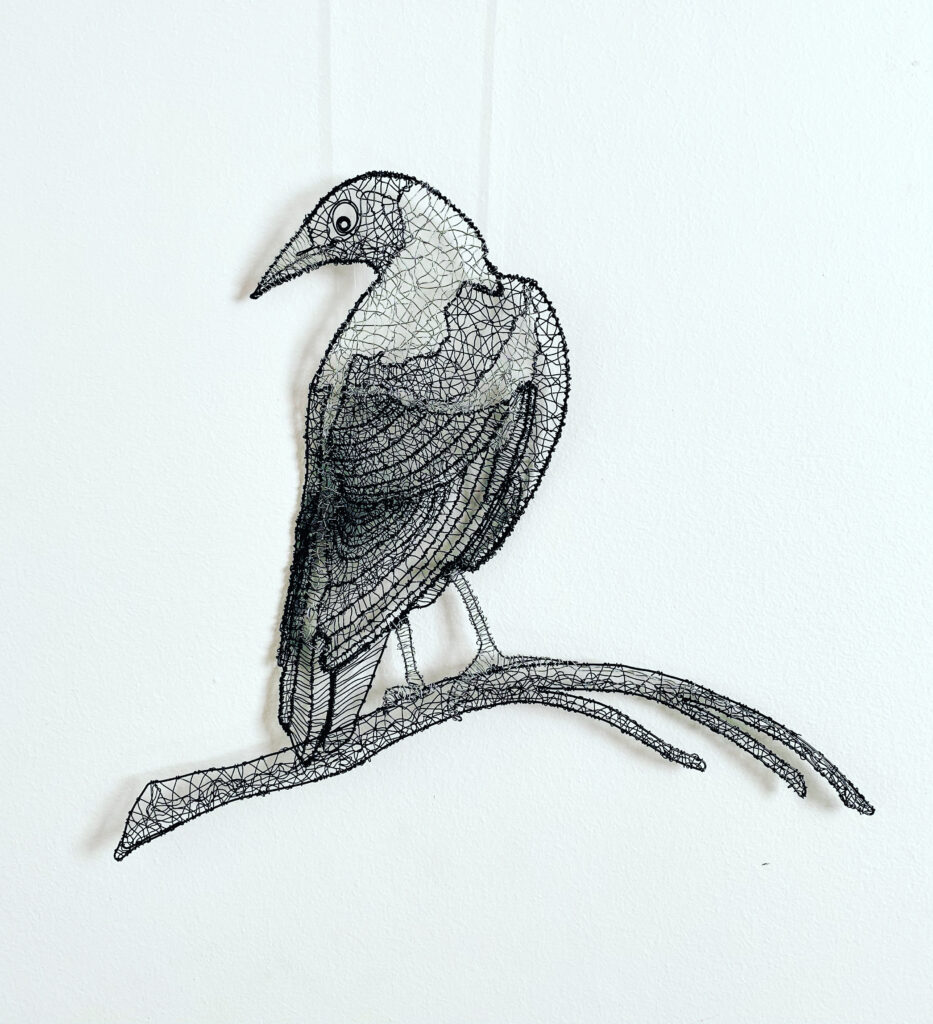 Maggie
by Kathy Sullivan
Wirework
Judges Comments:
This wirework sculpture is delicately constructed. When it is hung and diffused with light, it creates an evocative shadow of a magpie, bringing the bird to life in the room. This is skillfully devised and when hung, a fluidly mobile sculpture.
---
SECTION 5: Drawing – All Media
First Prize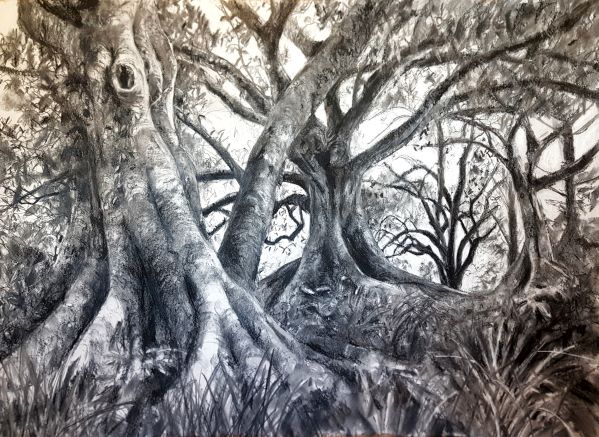 Ngoanga – Place of Figs Petrie
by Robyn Bauer
Charcoal
Judges Comments:
This charcoal drawing achieves excellent tonal difference and has an overall compositional balance. The fig trees are gracefully drawn, with depth and strength.
---
SECTION 6: 2D Artworks – Any Other Media
First Prize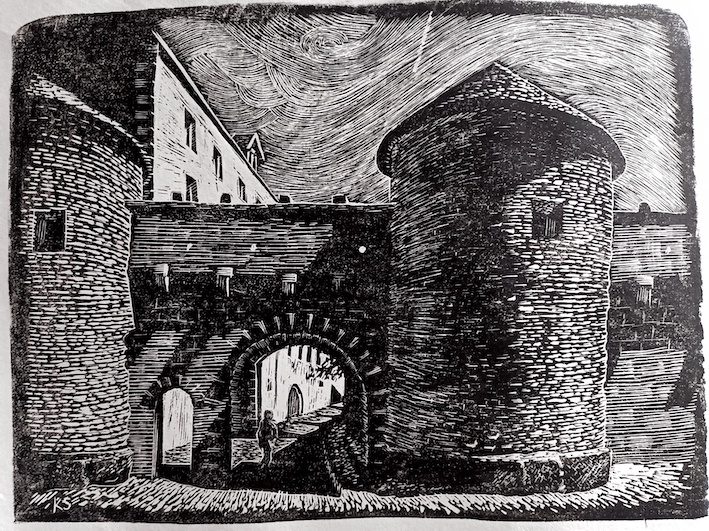 "Flavigny 3, Ed1/6"
by Katia Strounina
Wood Engraving
Judges Comments:
This wood engraving achieves a wonderful chiaroscuro in its depiction of the town gates of Flavigny. The work exhibits excellent technical artistry, and the lines which create the texture of buildings, foreground and sky are beautifully rendered. There is much movement and light in the sky to balance the darker foreground and buildings. The scene appears ancient but timeless, with great depth.
Second Prize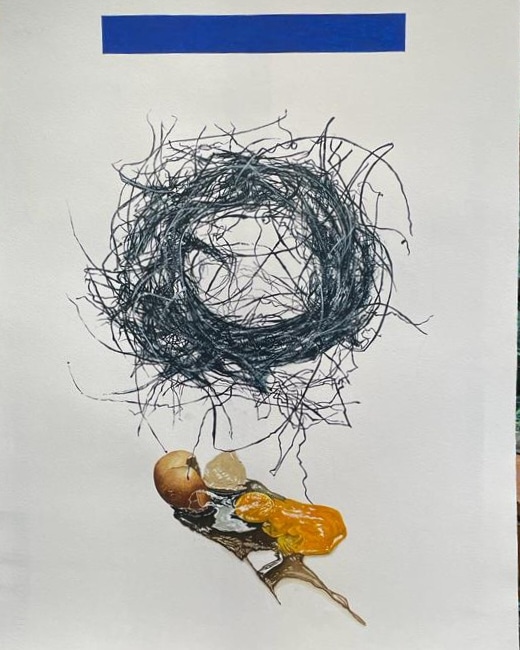 Blue and Yellow
by Alan Fletcher
Watercolour, Acrylic and Pen
Judges Comments:
This work exhibits excellent skill in composition, and very effective use of the different media used. The delicate nest of lines in the middle are texturally and sensitively rendered, and the blue bar at the top provides requisite balance. Each of the three elements contrasts with the others in shape, media and texture, but successfully integrates into a very balanced and intriguing whole.
Highly Commended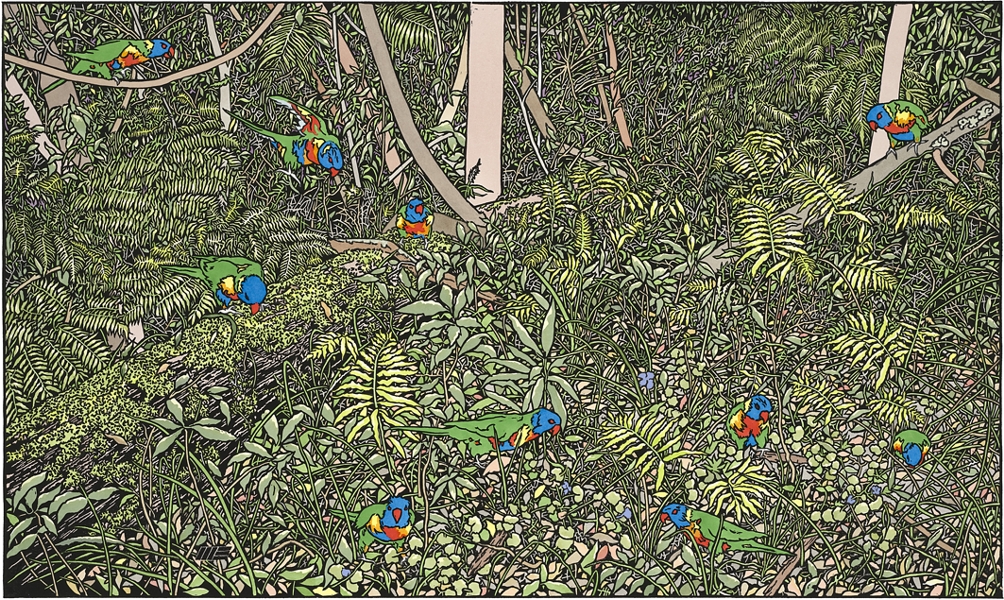 Going About Living
by Wayne Singleton
Hand Coloured Linocut Print
Judges Comments:
This linocut print displays immense skill in the detail of the scene and in the delicate hand colouring of the birds. The eye of the viewer is drawn again and again to explore the intricacies of the scene. The work encourages full immersion into the forest that is depicted and the living elements within it.
---
People's Choice