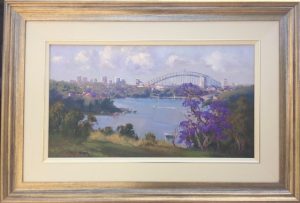 Chris Huber, Sultry Mood and Jacaranda, 1990, oil, 99cm x 70cm $1990
Tony Walker, At Double Island Point, Watercolour, 76 x 57cm, $900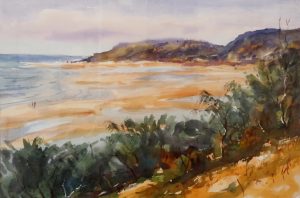 The world around us serves as one of the most important figurative interpretations in art. Nature has a positive effect on the emotional state and many artists take advantage of this. The French expression "plein air" means "fresh air" or "in the open air" in English. This year's En Plein Air Exhibition at Petrie Terrace Gallery was a delightful collection of works created "in the open air'.
The participating artists typically prefer working in natural light conditions and placing emphasis on the changing qualities of light outdoors. They take their work onsite with them by carrying portable easels, canvases and paints to an outdoor location.
The freedom of working in this way was highlighted in this Exhibition. As you looked around the gallery; what became evident was the brilliance of colours and the 'shimmer' of the landscapes and places observed firsthand.
Overall the exhibition included 56 works by 26 artists boasting a variety of mediums, styles and locations. Both urban and natural settings were captured in interesting compositions.
One thing's for sure… The world isn't a photograph and it moves and changes all the time. Keeping up requires observation combined with a deep visual vocabulary.
Thank you to all artists who participated in this year's En Plein Air Exhibition.
Kathryn McGovern