The Young Artist Award 2018 opened to a receptive crowd at our own Petrie Terrace Gallery last Wednesday 17th October. The award was officially opened by CEO of Artisan Claire Sourgnes and judged by our own fellow of the RQAS Glen Gillard.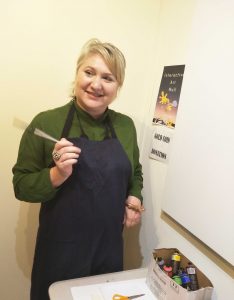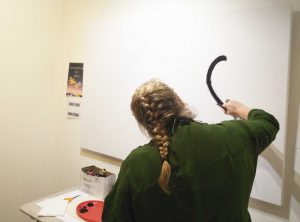 Claire Sourgnes spoke of the challenges facing young artists and shared some sound advice with our young artists on building their careers.  She then honoured us by painting the first mark on our interactive canvas wall, this fun activity will be open to all patrons until the close of the Young Artist Award, simply drop a coin in the donation jar and make your mark! The RQAS would like to thank Art Shed for sponsoring our interactive art wall for the Young Artist Award.
The brief  for the 2018 Young Artist Award called for our young artists to create work  'drawn from life' and they didn't disappoint, the variety of styles belied the unique nature of each young artists burgeoning practice.
Prizes:
Prizes were offered in two categories for the Young Artist Award 2018 separated by age, section one was open to 18-30 year olds and section two 14 -17 year olds.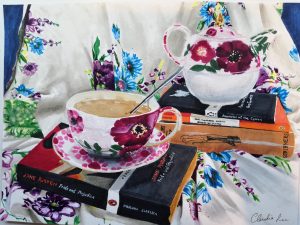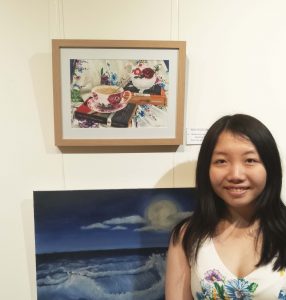 The first prize for section one (18-30 years old) went to Claudia Anne Lee for her quirky and delightful piece "Books and Bouquets" of the work our judge commented that the difficult medium of watercolour was "very nicely handled with subtle notes here and there. Design, composition, use of tone and colour indicates a sound knowledge, and promise of things to come for this artist."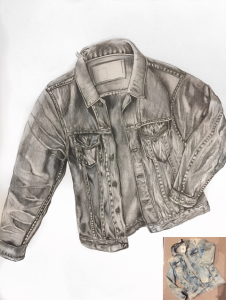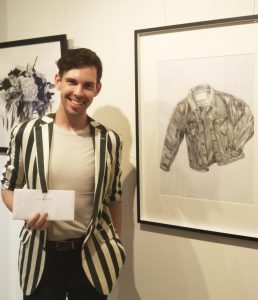 The second prize for section one (18-30) went to Benjamin Dutton for his elegantly executed piece "Denim Daze". Our judge noted "A simple statement, a jacket, with real consideration of design – one arm folded, and jacket slightly skewed adds interest to an ordinary subject. A nice variety of marks and convincing use of tone. Good observation."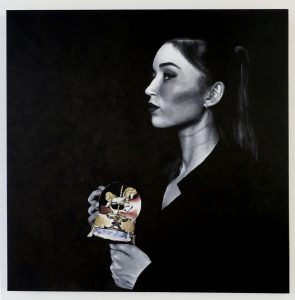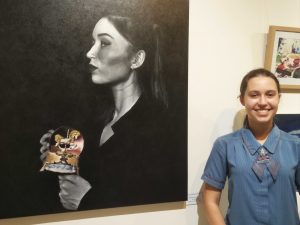 In Section two (14-17) the first prize was taken out by Alexandra Leyshon for her disarming piece "Something Old".  Of the work our judge noted a certain "element of sophistication and maturity in this portrait. Tone and drawing well observed. A bold and striking statement."
There were also three highly commendeds award in section one.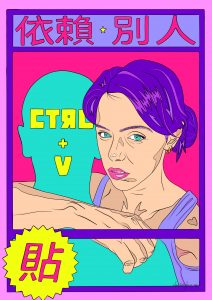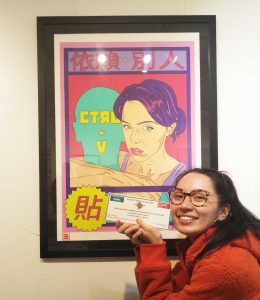 A highly commended went to Spectator Jonze for her Pop-Art piece "Pearl: Paste-A-Partner". The judge commented that the work was "nicely composed. Discordant colours adding a subtle tension, but well resolved."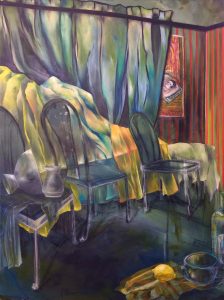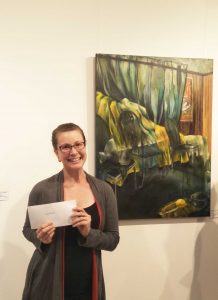 A second highly commended went to Jessica Malousis for her piece "Homage to Matisse" our judge commented it was "a well thought out piece with good use of warm and cool colour. Clever placement of repeating shapes – containers, chairs, stripes. Eye catching because of the drama – strong light and dark."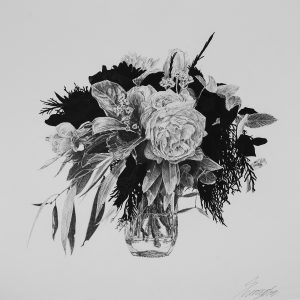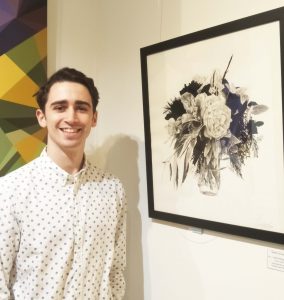 And a final highly commended went to Daniel Sherington for his exacting work "A Study in (Re) Contextualisation". Our judge commented "Some confident and refined pen work in this drawing."
The Young Artist Award will be on display at Petrie Terrace Gallery until the 27th October 2018. Join us for the closing event 2pm on Saturday 27th October we will be announcing the people's choice winners of our Hard and Agnes Richardson Drawing Prize and The Queensland Figurative 2018.
Closing event: Saturday 27th October 2pm.