Opening event: Wednesday 21st November 7pm
Exhibition Dates: 20th November till 2nd Dec
Petrie Terrace Gallery is thrilled to be hosting "Brisbane Secrets" a solo exhibition of paintings and drawings by Robyn Bauer.
Brisbane Secrets follows on from her 2016 exhibition "Brisbane Stories" and delving deeper into the life of the river city. Bauer's colourful paintings lead the viewer to hidden spots around the suburban landscape. These Brisbane scenes though sometimes unknown to the viewer conjure a familiarity and sense of nostalgia, capturing perfectly the sleepy humidity and lingering summer light of Brisbane's inner-city suburbs. Bauer's work translates this mood so perfectly that when gazing upon the paintings you can almost smell the petrichor.
As well as a variety of Brisbane scenes in and around the inner-city suburbs Bauer will be displaying work from her 100 Churches Project which started out as a simple visual record of various local churches but grew into a much more elaborate project combining research and documentation stretching to every corner of the urban environment.  Bauer speaks with passion on the project saying "I was fascinated by how each building where people congregated, fit into its individual landscape, with its own topography, vegetation, light and weather effects, and the ambience of urban life and shared experience. I aimed for an honest record of how that location appeared on that particular day, rather than a picturesque depiction of its "best face". The aim of this approach was to allow a more universal experience."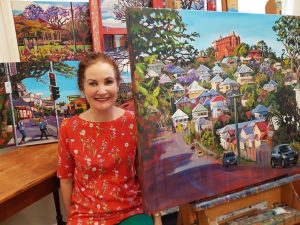 Brisbane based artist Robyn Bauer is an institution in the Queensland Art Scene.  Besides being a celebrated artist within her own right, she is also a gifted art historian and educator taking up key positions at Queensland Art Gallery, Queensland University of Technology and the Brisbane Institute of art. Robyn is also active in the artistic community of Brisbane involved with Urban Sketchers, The RQAS and Sculptors Queensland.
Join us for the opening event on Wednesday 21st November 7pm. The exhibition continues till 2nd December and will be open 10am – 4pm every day.
For a private viewing outside of hours please contact our gallery director Rochelle Lindquist on (07) 3367 1977.