Officially opened by Graham Quirk at 7:30pm on Wednesday 10th July 2019.
Exhibition continues to Sunday 4th August. Judged by John Massy.         
Overall Winner
Casey Charles  #30. Chasing Smoke 
With an apparently wry humour, the artist who created the Overall Winning Painting has prompted us to think about how we observe the world and all the creatures in it – including ourselves. His control in resisting the temptation to have the seal clapping its flippers as seen in waterparks is to be commended.
First Prize – Works on Canvas and Board
Rawdon Slater # 57. Dicky Beach
This winning entry delighted us in communicating the joy of expansive paint application although the colours selected were comparatively subdued.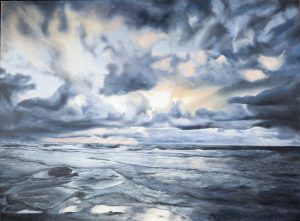 Second Prize – Works on Canvas and Board
Catherine Hamilton-Jones #67. Boiling Pot Pandanus
This work was meticulously observed and executed and displayed remarkable clarity of colour; conveying a wonderful sense of light.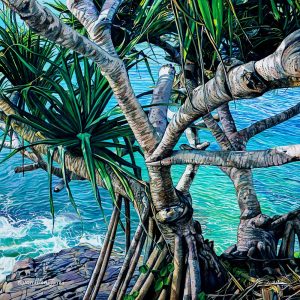 First Prize – Works on Paper
Ruby Eaves #18.  Coastal Creek Reflections
Luminosity and fluidity, were the admirable characteristics of watercolour that were capably addressed in this work.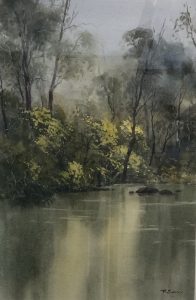 Second Prize – Works on Paper
Joanne Heath #19. Landscape
It was rewarding to see the controlled execution of this monoprint, as this technique can so often be obviously accidental.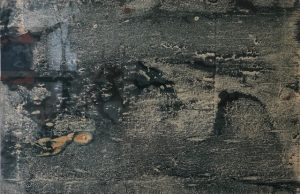 First Prize Photography
Margaret Thomas #5. Sunset at Springleigh
The winning photograph showed sensitivity and subtlety in presenting a sunset – so often banal in photographs.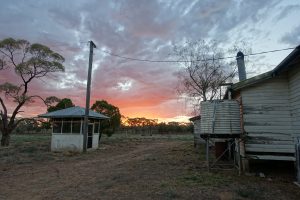 Highly Commended Photography
Carel Thysse #7. Sadhu
High drama was evident in this work and the artist is to be commended on clever manipulation of the initial subject.
First Prize Sculpture
Bill Gale #12. Fly by Night
This work was lyrical and successful as a three -dimensional form that took its place in space quite adequately.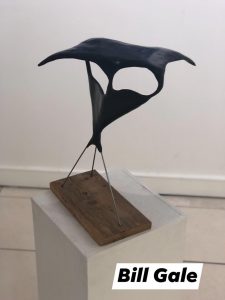 Highly Commended Sculpture
Bill Gale #8. From the Bushfire, New Life
This work purposefully integrates natural and man-made elements and places more attention to message than pure form.