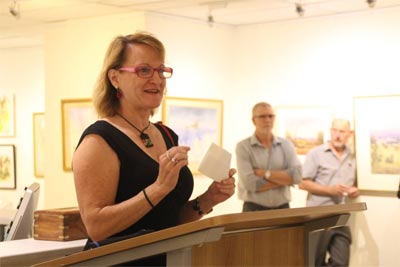 Top image: Judges Natasha Hodgson & Di Taylor congratulate 1st Prize winner Jacki Archibald, photo by Joanne Heath. Bottom image: Maria Field opens The RQAS 2017 Watercolour Exhibition Photo by Joanne Heath.
JUDGES' COMMENTS
Overall Comments
The Watercolour Exhibition is a diverse one covering a wide array of subjects and using differing water-based media and support. Good to see once again the range of techniques deployed which are unique to water media.
It's a well presented and professional exhibition.
Photo by RQAS
First Prize – Jackie Archibald – Lemon Tree Very Pretty
A vibrant painting which tells a childhood story using splashes of vibrant colours and a range of techniques. Effective composition. Good mixture of techniques including collage and pushing the water media from opaque to translucent.
Photo by Joanne Heath
Second Prize – Wilna ten Cate – Gossiping
Well executed on canvas capturing an openness to the topic. Economy of strokes and range of diverse colours to form the skin tones has been done well. Good use of the white background as part of the overall design and the line work shifting into more solid shapes.
Photo by Joanne Heath
Third Prize – Tony Walker – Steamy Morning, Sarawak River
Energetic painting of a bustling wharf scene. The techniques deployed greatly enhances the busyness of the painting. The looseness of the paint lines and background pencil lines brings the scene alive.
Commended – Maria Field – Through the Clouds
Strong composition of an aerial view of the Brisbane River. The concept using a unique palette of turquoise and purple/red enhances the atmosphere of the painting.
Commended – Ruby Eaves – Lockyer Valley Impressions
Captures a quintessential country scene in the Lockyer Valley. A pleasing composition of the river winding through the valley. Good deployment of a range of techniques including well-controlled background washes.