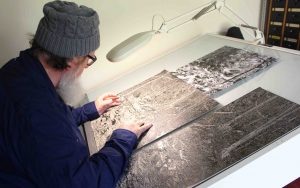 Pictured: Wayne Singleton works in his studio.
Exhibition Dates: 17th July til 29th July
Official Opening: Sunday 22nd July 12pm – 4pm
Artist Demonstration and Q and A: Saturday 28th July 12pm
Award-winning Brisbane printmaker Wayne Singleton has mounted his solo show "Cutting Both Sides of the Line" at Petrie Terrace Gallery this week to an enthusiastic reception from members and art-lovers alike.  The show includes over 50 original prints and multiple editions along with a small selection of sculptures by acclaimed glass artist Jo Bone.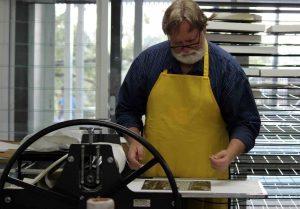 Pictured: Wayne Singleton printing at Brisbane Grammar School.
The self-described printmaker finds an interesting balance bringing a softness and subtlety to an often stark and strong medium usually regulated to the decorative arts or technical arts.  Wayne says of his practice "I find myself both facing the world and withdrawing to the meditation space of my studio. I can't conceive of myself living an authentic life without a balance of both. My wellbeing and prints are a by-product of a curious life lived in that balance. Is it Art? Does it matter? Not to me, but they are prints and I am the printmaker."
The show will be officially opened this Sunday 22nd July at 12pm by Brisbane Grammar's Head of Art Angela McCormack, we hope to see you there. If you can't make the opening why not pop by for the artist demonstration and Q and A event in the gallery on Saturday 28th July at 12pm.
Find the artist online –
website: www.waynesingleton.com.au
Facebook: www.facebook.com/WayneSingletonPrintmaker/
Instagram: www.instagram.com/waynessingleton