From Noosa to Brisbane and down to the border and back what does south-east Queensland mean to you?
That is the question our artists asked themselves for this exhibition. RQAS artists and others engaged with the unique heritage and characters of Brisbane and it's surrounding cities and the work they produced based on these observations was as diverse, lively and colourful as the river city we call home.
The exhibition was opened by Councillor for Central Ward Vicki Howard, who has been a long time supporter of the RQAS Brisbane Branch and shared her impressions of this exhibition and its success in capturing Brisbane city's heritage.
Our judge Clair Sourgnes who had the difficult task of picking a winner from many wonderful works on display, then addressed the considerable crowd noting the diversity of the work displayed both in medium and style.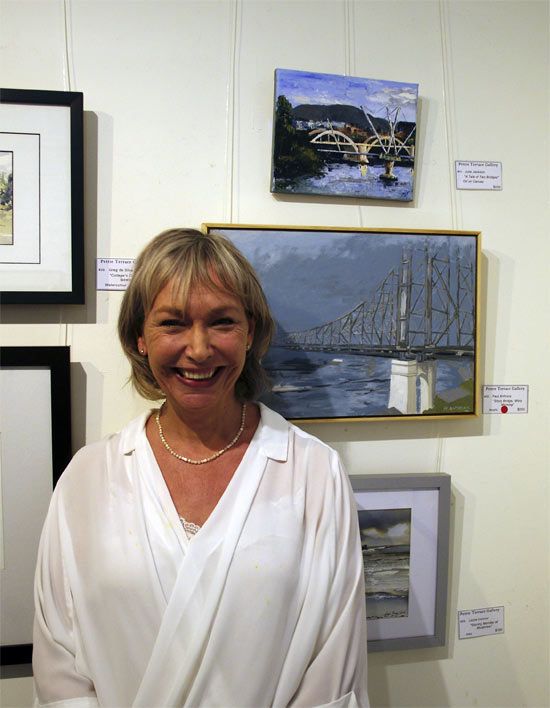 Pictured 1st prize winner Julia Jackson.
First prize went to Julia Jackson for "A tale of two bridges" Judge's comments:
"Diminutive in stature, this painting speaks so strongly to me of Brisbane, our relationship to the river and its crossing points. The paint application is deft and confident."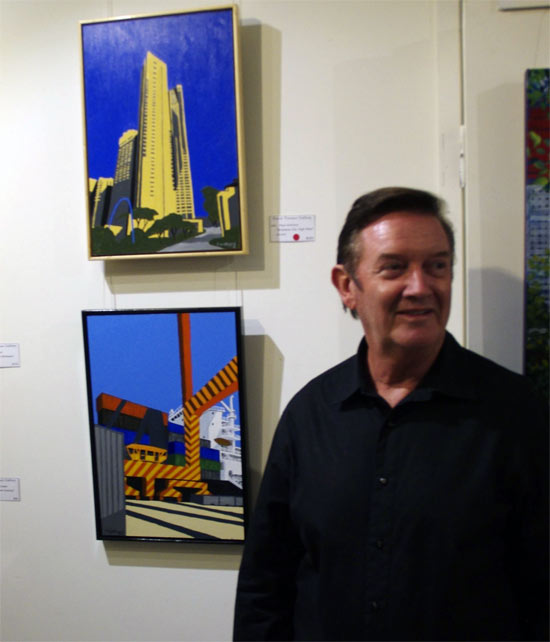 Image: Paul Anthony 2nd Prize winner.
Second prize went to Paul Anthony for his piece "Port of Brisbane" Judge's comments:
"With the Port of Brisbane fast becoming the first port of call for visitors to this city, I like the choice of subject matter in this painting.
Strong composition and colour choice also made it a compelling painting."

Image: 3rd prize winner Craig Amos
Third prize went to Craig Amos for "Bridge Pub"
Judge's comments:
"Complicated and layered, this painting is a striking view of a Brisbane icon. Explosion of colour that screams summer."
So vast was the talent that our judge decided on three highly commended awards instead of the two usually on offer.
Highly commended awards went to Travis Hendrix, Peter Hubbard and Leanne Carkeet, see the judge's comments below:
Image: Leanne Carkeet Highly Commended.

Leanne Carkeet – Around the corner, Petrie Tce
Judge's comments:
"Nothing speaks more strongly of Brisbane that it's colonial architecture. The bold composition and colour of this painting work really well to create a sense of place."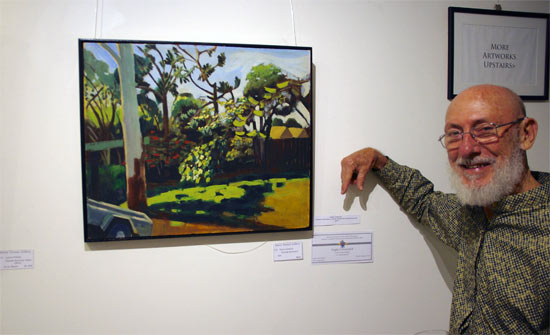 Image: Peter Hubbard – Highly Commended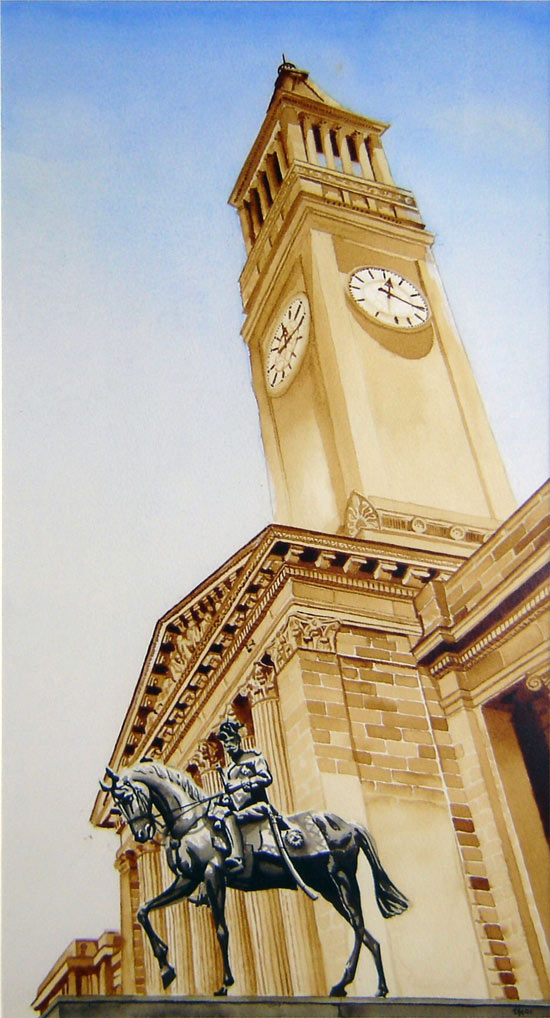 Image: Travis Hendrix "Keeping a Vigil" Highly Commended
Judge's comments:
"An iconic and familiar perspective of a Brisbane landmark. Strong composition and technical ability, with a touch of humour in choice of media."
With over 80 people in attendance, 40 artists sharing their vision of our town and several sales the opening of Brisbane: Landmarks, Landscapes and Personalities was a success. The exhibition continues until Friday 20th April, drop by Petrie Terrace Gallery Tuesday through Sunday 10 am – 3:30 pm to catch this fantastic show.