Welcome to Abstraction 2020: This year we are running this exhibition online and in the Petrie Terrace Gallery from Friday June the 12th when the Gallery will re-open.
Abstraction was Judged by Andrew Baker with the Award presentation to be held at 2pm, on Saturday 27th June.
If you would like to come along bookings are essential, please RSVP with any attendees by 20th June by email or phone to the Gallery directly.
---
ABSTRACTION 2020 – WINNERS
First Prize – Untitled I (Deliberate Picture Series) by Natalie Lavelle
Above all other works in the exhibition, this painting connects directly with the origins of Western abstraction from the 1910s and -20s. In so doing, it exhibits lessons learned from early adherents such as Kazimir Malevich and Theo van Doesburg. Echoing Japanese and Chinese calligraphy, Natalie's single sweeping brush stroke is at once deliberate and controlled — yet has a looseness that provides both movement and tension to the picture. The vertical string-line bisecting the picture plane adds a note of formality and provides a reference against which the viewer might contemplate placement of the large shadowy brush stoke upon the painting's brilliant white rectangular ground.
Second Prize – Thereabouts by Helen Creed
This painting is a rare bird — that is, one which works as well hung on a diagonal as it does on the square. Reminiscent of knitting or Indigenous weaving patterns, the tricolour stripes, in progressively darker tones from front to back, give the painting an impression of depth and airiness. The warm tones of Helen's painting are inviting while the imperfect straight lines provide an elasticity filled with tension.
Third Prize – Night Market by Kim Lowry
Straddling pure abstraction and physical reality, this tonal study of light in relation to objects could only exist in modern times. Devoid of gesture, the flatly painted areas of merged and fragmented shapes play with notions of focus and depth of field in a photographic sense. The modest size of Kim's painting is appropriate for its humble subject matter and probably wouldn't have worked as well on a larger scale.
Peoples Choice – LCS.1 by Petalia Humphreys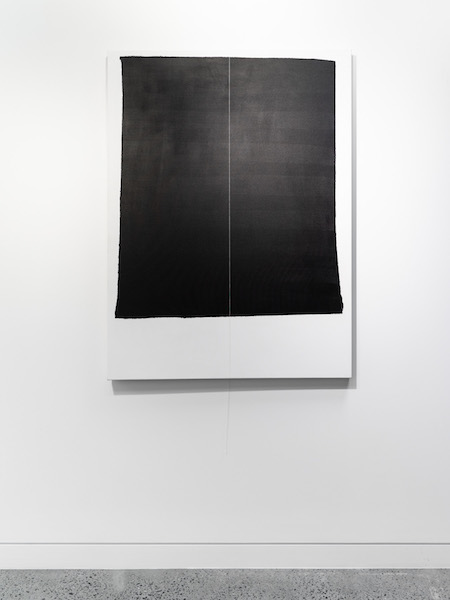 ---
ABSTRACTION 2020 – ENTRIES
Artists
To find out more about the Artists & RQAS Members in this online exhibition, please click their links below:
Louise Brakenridge
Glen Buckley
Helen Creed
Allan Green
Christine Groh
Jan Hutchison
Minal Karim
Alan Morrison
Jennifer Parker
Wendy Pound
Therese Rule
Glenmary Swan
Rawdon Slater
Current and Upcoming Exhibitions:
17 November 2023

–

15 December 2023

24 January 2024

–

4 February 2024

7 February 2024

–

11 February 2024