Officially opened by Marg Thomas Brisbane Branch President at 2pm on Saturday the 18th May 2019
Comments by Guest Artist & Judge Leigh Camilleri
Winner
#5 Helen Creed for 'Summer Haze'
When I first looked at this painting it stood out just because it's different, but that isn't why it's the winner. The pattern is something that can really pull a work together, and colours in this work well together. In general, the work has a good rhythm and aesthetic.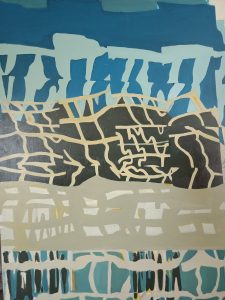 Second Place
#14 Kate Barry for 'Bush Bathing'.
Landscape can be a lot of things, for me the most successful are works that pull on the memories of the viewer. I spend a lot of time in the bush. Bush bathing sends me to a lyrical quiet place that is harmonious, yet full of sound and memory.
Third Place
#15 Sharon Beckett for 'White Water'
A beautifully executed work that perfectly describes the ebb and flow of the water beneath. It is a quiet work that has pulls you into its depths.
Highly Commended
#43 Elisabeth Ruiz 'Encounter at Opal Country'
This work is well considered and extends a feeling that you can imagine the spacial aspects of the design. Very attractive colour ways.
Highly Commended
#46 Kate Barry
This complex small work finds the light in the darkness. The light trips across the landscape in ever moving harmonies.
Highly Commended
#42 Beverley Tainton
Finding layers of landscape through observation. It's obvious to the observer when the landscape has been considered. It is often that landscapes are either derived using a photograph or explored only through the mind. Sometimes you can do everything to encourage your work to find a point where it's a reflection of the Artist. I think this work does that.
Peoples' Choice
#7 Katrina Sunderland "Port of Brisbane"