Exhibition dates: 7th August till 31st August
Our first ever Modernism exhibition opened last Wednesday evening to a packed house at our own Petrie Terrace Gallery. This open exhibition called for artists to create work in the style of their favourite modernist artist or movement and our artists didn't disappoint. A total of 59 artworks are on display by 38 artists, the ecliptic exhibition includes cubist works, fauvism, impressionism, surrealism and art nouveau to name a few.
Our judge for the exhibition was Vanessa Van Ooyen senior curator at QUT Art Museum and William Robinson Gallery. You can find her judges' comments and a list of the winners below.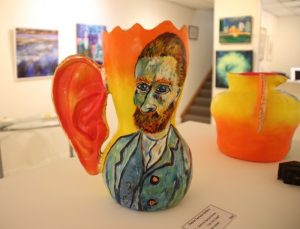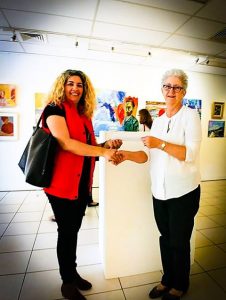 1st Prize 
"I am Van Gogh" # 58 – Gemma Garcia Roman
"Gemma's work draws upon the stories surrounding the life of the great Modernist artist, Vincent Van Gogh, cutting his ear off.
Her hand built ceramic work is playful in its exaggerated forms and colour, displaying technical skill across mediums in the hand built ceramic and portrait of Vincent. It's a unique and witty interpretation of this great artist's pain."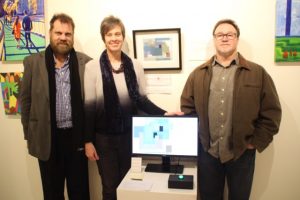 2nd Prize 
"After Balson, 1947" # 36 – MarS Collab.
"Clever conceptual work that questions the uniqueness of the art object and ideas of authenticity inspired by one of our great Abstractionists working in this country, Ralph Balson. What will the artwork be in the future if a computer can artificially generate it? What is the nature of creativity in a world where computers are increasing the tool of choice and arbiter of knowledge."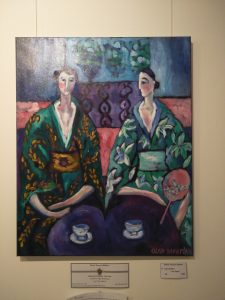 3rd Prize 
"Two Sisters" # 8 – Olga Bakhtina
"This work reminds me of the exquisite female Modernists working in Paris in the early part of the 19th Century such as Marie Launcerin. There is a confidence in this work with its sophisticated composition, curvilinear forms, use of colour, texture and pattern. I love the balance of boldness and subtlety in this work".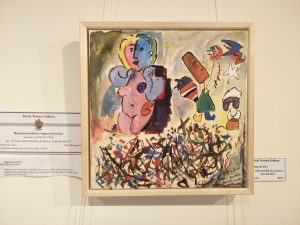 Highly Commended
"It does look like her Jackson, Just ask Miro" # 58 Greg De Silva
"Melding some of the greats of the 20th century such as Miro, Pollock and Picasso as inspiration this work brings a smile as you comprehend the huge disparity of styles in what is simply termed 'Modernism'."
Drop by the gallery before Friday 31st August to see this wonderful exhibition and to cast your vote for the People's Choice Award!